Latest News
Without U2 Chicago U2 Tribute Band shared U2's photo.
Friday, November 18th, 2016 at 8:02am
Jason Spencer
My favourite album...... every single on it is an absolute gem!
Bill Manning
Ouch 25 years ago I rushed out to buy this album put it on and Zoo Station was first up and my reaction was this is awful the whole album was no Joshua Tree but then its wave of majestic ness took over and the 80's U2 was official over. Amazing album from start to finish.
Roberto Ruiz Morales
One, mysterious ways, the fly, even better than the real thing, ultraviolet, love is blindness, who's gonna ride your wild horses, until the end of the world, zoo station, Acrobat they are all in one album... landmark!
Mark Ferro
Wow, I remember being a 15 year old and buying the cassette after seeing it on a shelf in the department store. I bought it without even hearing any of of songs prior, all based on what I knew about U2 based on the Joshua Tree. Took it home played it and was blown away.
Vibor Cilic
As U2 were descending into Berlin, their plane the last bird before the new era to begin,the Communism was throwing its last curtain.Love was blindness,people were acrobats trying to light their ways out of Zoo Station.It was all so cruel until the end of the world
Michael Marshall
It was the album which got me hooked as a U2 fan forever, then I went back to buy all of the previous albums... And everything which followed Achtung Baby has only been the icing on the cake... Thank you for being such an influence in my taste of music!
Daniel Quinion
The Joshua Tree is better IMO, because Bono started to lose his voice throughout the recording of Achtung Baby, and he's never recovered it since. It was heartbreaking to hear it start to go. AB was their last great Album
Marcus Sponthon
Celebrate U2's best album "Achtung Baby" which was released today 25 years ago with a cold German in the glass. Have a nice weekend 👍🏻
Stephan Lodewijks
The best and boldest band re-invention EVER!! The transition... from American traditional to European progressive from soft black and white to screaming color from serious to funny from blue eyes to sunglasses from natural dry to greased from cloth to leather And myself as a fan: from a little scared to eternally hooked!!
Duck Lu Ha
Best album ever!!!! I was 14 and when i heard Zoo station (and the fly months before of course) i thoght "that's not rattle n hum", that's not "joshua tree", even better than the real thing made almost the same impression but then One arrives and that song was a great relief. Days gone by and I started to like all the songs in the album and then the Zoo tv tour started and at that point U2 changed my life. Now in 2016 Achtung baby! is my favorite album ever and zoo tv tour the best concert i've ever been, it's a shame that U2 lost all that magic.
Steven TJ Verachtert
I will never forget that moment when, as a teenager, I tuned in on Zoo Station. It was the end of one cruel world, but the beginning of another. Even till today you still light my way. Your music, lyrics, and its vision moved me in mysterious ways. You changed my life, you're even better than the real thing. Namasté.
Steve Gaiski
Still remember sitting in the mall parking lot popping the cassette in and playing Zoo Station for the first time. It was a sound I've never heard before. Start to finish one of the best albums ever. One is one of the greatest songs ever. The entire album is a timeless masterpiece of work.
Eric Wolf
Best U2 album! Best Album period! I remember going to see the concert with my best friend (a non U2 fan) in St. Louis and even he came out saying Wow, that was Awesome!
Theresa Chipman
My favorite u2 album 💙 it's hard to pick a favorite song there are so many good ones. Until the end of the world I'd have to say is my favorite. I reached out for the one I tried to destroy. You, you said you'd wait till the end of the world.
Sean Casey
My favorite album. I was 15 when Achtung Baby came out and had to wait until the 25th of November when I turned 16. I got some money to buy the album and could legally drive to a town an hour away and buy it in a record store. Ugh, when said like that it kinda makes me feel old...
Alejandro Hernandez
Best Reinvention Ever of U2 Bono The Edge Larry Mullin and Adam Clayton in their best momento of creativity Great Álbum one of the best of the Early Nineties and great artistitic Potograph inspired in Berlin post Wall and Midle East Culture
James Gill
Queued up from early morning on Grafton St for this album, if I remember correctly it went on Sale at midnight. Those were the days of the real fans who would do anything to get their hands on a U2 Album.
Rob Davidson
This album provided the backdrop for turning a band on stage just playing in the spotlight into the mammoth spectacle that changed the face of concerts everywhere with the Zoo TV tour. 25 years later still leading the way with live innovations that no one can match. Massively under rated piece of work.
Patti McGowan Raffaele
@u2 met you in NYC at radio station on night and the band signed my album. Yes, the vinyl!!this was in the top 5 of your albums ..... Please go back and make one like this or unforgettable fire or Joshua tree ( side b).
Shaun Casey
My first Love in music the video for even better than the real thing and the sound of the edge mesmerised me as a 10 year old kid it was my first album and we have never looked back U2 you are music to me!
Heidi Boone
I remember my brother getting this cassette tape for Christmas and "borrowing" it I don't think I ever returned it... one of the best U2 albums start to finish.
Natalie Durkin
Love. That. Album. I was at university when it came out, and I was studying in my room with the radio on when they sneak previewed a track and played Mysterious Ways. They didn't announce what they were playing, but on that first riff, I knew who it was. I knew it was so so good. It was amazing to hear those first notes of reinvention.
Peter Burman
One of the top albums of all time for me. Will never forget hearing it for the first time. Too much to ask to think U2 can pull it off once more-or is it?
Erin Amos
My first U2 album, (bought at a Christian bookstore). I fell in love instantly. It was the dirty guitar in Mysterious Ways. LOVE!!!
Chris Tian
And I was there, I had been waiting for so long and BOOM! We got all struck with awe, surprise and scepticism. It took me weeks to understand and get accustomed to the shift...but I immediately fell in love with "Ultraviolet"...then the ZooTv tour, an unmatched emotion...the rest is just history ❤
Without U2 Live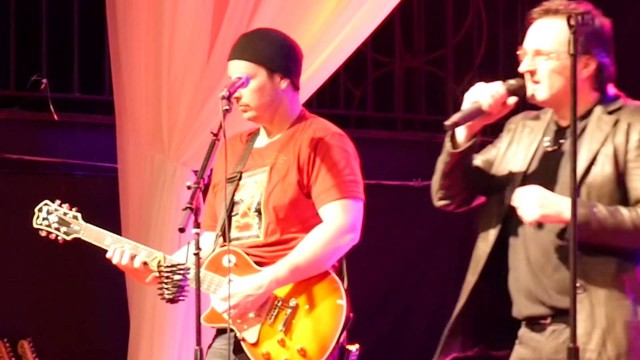 Reviews
Without U2 are the complete tribute experience. They bring pro players that can not only play the part but can deliver the look, sound, and feel of U2. When ever a client is looking for a great tribute experience, Without U2 is at the top of my list of bands to send.
Josh Niemiera, Double D Booking
A Without U2 show evokes the spirit, energy and musicianship of this legendary Irish rock band in an incredible fashion. The band's carefully selected song list covers all periods of U2's rock history and recreates in song, stage presence and delivery an authentic U2 concert experience.
Chris Oakley, Village of Carol Stream
From the professional players to their onstage presence, WithoutU2 is as close to the original as you can get to the real thing. Great professional people to work with before during and after the show. A 2 hour show that had the crowd singing along with and dancing to every note. A sure bet to please any audience they are put in front of. What a great experience!
Michael Story, Manager, Ottawa RiverFest
The Midwest's Top U2 Tribute
About the Band
Based in Chicago, IL, Without U2 is named after the song "With or Without You", from U2's breakthrough album The Joshua Tree. Without U2 performs hits from all the albums, from Boy, October, War, The Unforgettable Fire, Joshua Tree, Rattle and Hum, Achtung Baby, Zooropa, Pop, All That You Can't Leave Behind, How To Dismantle An Atomic Bomb, No Line on the Horizon, and Songs of Innocence. Our members are professional musicians and huge U2 fans. We will not settle for less than complete authenticity. Jono belts out souring vocals that rival Bono himself. Cory Sanders recreates the tech guitar wizardry of "The Edge", and Michael Koelling (bass) supplies the melodic low end of Adam Clayton. And true to his real-life counterpart, Larry Mullen Jr., drummer Jeff Kropp provides the heart, soul and attention to detail that makes Without U2 unrivaled, except by U2 themselves. Without U2 is available for stadium shows, festivals, clubs, casinos, weddings, birthdays, concerts in the park, Christmas parties, fundraisers, churches, Armed Forces Tours (USO Tours), as well as private parties and corporate events within the U.S. and around the world.
Featuring:
Jono as Bono
Jeff Kropp as Larry Mullen, Jr.
Matt Gignac as The Edge
Michael Koelling as Adam Clayton