The Midwest's Top U2 Tribute
Without U2 Live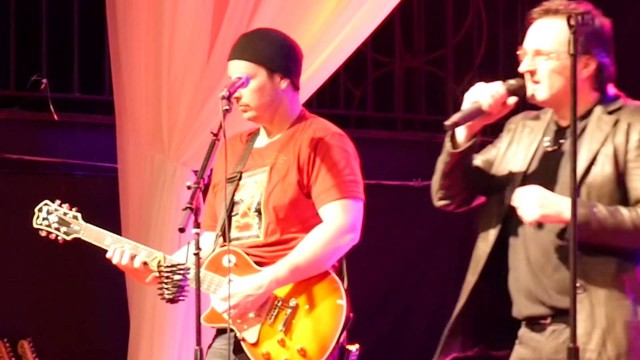 Reviews
Without U2 are the complete tribute experience. They bring pro players that can not only play the part but can deliver the look, sound, and feel of U2. When ever a client is looking for a great tribute experience, Without U2 is at the top of my list of bands to send.
Josh Niemiera, Double D Booking
A Without U2 show evokes the spirit, energy and musicianship of this legendary Irish rock band in an incredible fashion. The band's carefully selected song list covers all periods of U2's rock history and recreates in song, stage presence and delivery an authentic U2 concert experience.
Chris Oakley, Village of Carol Stream
From the professional players to their onstage presence, WithoutU2 is as close to the original as you can get to the real thing. Great professional people to work with before during and after the show. A 2 hour show that had the crowd singing along with and dancing to every note. A sure bet to please any audience they are put in front of. What a great experience!
Michael Story, Manager, Ottawa RiverFest
About the Band
Based in Chicago, IL, Without U2 is named after the song "With or Without You", from U2's breakthrough album The Joshua Tree. Without U2 performs hits from all the albums, from Boy, October, War, The Unforgettable Fire, Joshua Tree, Rattle and Hum, Achtung Baby, Zooropa, Pop, All That You Can't Leave Behind, How To Dismantle An Atomic Bomb, No Line on the Horizon, and Songs of Innocence. Our members are professional musicians and huge U2 fans. We will not settle for less than complete authenticity. Jono belts out souring vocals that rival Bono himself. Cory Sanders recreates the tech guitar wizardry of "The Edge", and Michael Koelling (bass) supplies the melodic low end of Adam Clayton. And true to his real-life counterpart, Larry Mullen Jr., drummer Jeff Kropp provides the heart, soul and attention to detail that makes Without U2 unrivaled, except by U2 themselves. Without U2 is available for stadium shows, festivals, clubs, casinos, weddings, birthdays, concerts in the park, Christmas parties, fundraisers, churches, Armed Forces Tours (USO Tours), as well as private parties and corporate events within the U.S. and around the world.
Featuring:
Jono as Bono
Jeff Kropp as Larry Mullen, Jr.
Matt Gignac as The Edge
Michael Koelling as Adam Clayton
Latest News
Without U2 Chicago U2 Tribute Band shared U2's post.
Wednesday, September 27th, 2017 at 5:49am