The Midwest's Top U2 Tribute
Without U2 Live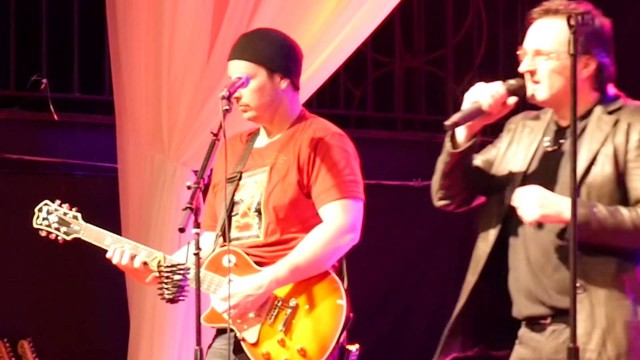 Reviews
Without U2 are the complete tribute experience. They bring pro players that can not only play the part but can deliver the look, sound, and feel of U2. When ever a client is looking for a great tribute experience, Without U2 is at the top of my list of bands to send.
Josh Niemiera, Double D Booking
A Without U2 show evokes the spirit, energy and musicianship of this legendary Irish rock band in an incredible fashion. The band's carefully selected song list covers all periods of U2's rock history and recreates in song, stage presence and delivery an authentic U2 concert experience.
Chris Oakley, Village of Carol Stream
From the professional players to their onstage presence, WithoutU2 is as close to the original as you can get to the real thing. Great professional people to work with before during and after the show. A 2 hour show that had the crowd singing along with and dancing to every note. A sure bet to please any audience they are put in front of. What a great experience!
Michael Story, Manager, Ottawa RiverFest
About the Band
Based in Chicago, IL, Without U2 is named after the song "With or Without You", from U2's breakthrough album The Joshua Tree. Without U2 performs hits from all the albums, from Boy, October, War, The Unforgettable Fire, Joshua Tree, Rattle and Hum, Achtung Baby, Zooropa, Pop, All That You Can't Leave Behind, How To Dismantle An Atomic Bomb, No Line on the Horizon, and Songs of Innocence. Our members are professional musicians and huge U2 fans. We will not settle for less than complete authenticity. Jono belts out souring vocals that rival Bono himself. Cory Sanders recreates the tech guitar wizardry of "The Edge", and Michael Koelling (bass) supplies the melodic low end of Adam Clayton. And true to his real-life counterpart, Larry Mullen Jr., drummer Jeff Kropp provides the heart, soul and attention to detail that makes Without U2 unrivaled, except by U2 themselves. Without U2 is available for stadium shows, festivals, clubs, casinos, weddings, birthdays, concerts in the park, Christmas parties, fundraisers, churches, Armed Forces Tours (USO Tours), as well as private parties and corporate events within the U.S. and around the world.
Featuring:
Jono as Bono
Jeff Kropp as Larry Mullen, Jr.
Matt Gignac as The Edge
Michael Koelling as Adam Clayton
Latest News
Without U2 Chicago U2 Tribute Band shared U2's photo.
Tuesday, March 7th, 2017 at 9:12am
Jamie Dober Faulds
Bono my 11 year old daughter, Delaney, drew this pic of you for me as a thank you for getting her Redzone tickets to see your anniversary show in Pittsburgh this June. She is a talented young artist and wants to be a singer/songwriter like you. Do you have any advice for aspiring young singers/songwriters? #askU2 #U2TheJoshuaTree2017
Ian Dawson
I would like to ask U2 why did they let the commercial animals Ticketmaster make a absolute fortune out of loyal U2 fans for this years Joshua Tree tour 2017 ? What would of been a great gesture was to make all the tickets a price which all could afford for all the years of loyalty & money they have spent#askU2TheJoshuaTree2017
Tommy Waitforit Villa
#AskU2 Have you considered playing Heartland in the upcoming shows? After all, it was originally written for The Joshua Tree and it retained the Eno/Lanois production when it was included in Rattle&Hum.
Dave Peterson
1987 was, for me, the best year in rock history. In addition to The Joshua Tree there were so many classic albums released: Midnight Oil's Diesel & Dust, 10,000 Maniac's In My Tribe just to name a few. What are your favorite albums from the year (or era), and why do you think they continue to hold up 30 years later? #askU2
Luca Brescia Morra
What's The Joshua Tree's meaning now? When I listened this for the first time, it was a wonderful experience. I had travelled across sad deserts, terrible realities, broken loves, but also across a healthy fun and joy to meet the light. In my opinion, TJT is a real life's teaching in particular in this times, but for you? I hope that you will answer! Great embrace from Salerno, Italy! #askU2 #U2TheJoshuaTree2017
Valentin Schildberg
Hi U2. I wasn't born in 1987 but I'm completely crazy about you and about your songs and albums, specially Joshua Tree. I'm only 22, how can you explain that your songs can cross the years and the generations ? Thank you very much Love #asku2 #u2thejoshuatree2017
Helen Mone
Why why why did you allow parisites sell tickets for 4times the amount of ordinary tickets?? I'm distraught yet again I missed out for 3rd time! you make me sick 😡😡😡 I've seen you 3 times and loved you the Joshua Tree is my favourite album my little daughter bought me a lovely pic of it for xmas too I can't even try and put it up on my wall 😢😢
Luigi Pio Mischitelli
Hi Bono, where were you when you started writing the text of Where The Streets? and what brought you to imagine that amazing place? #askU2 #U2TheJoshuaTree2017 Me and you below♥️
Philip Hildebrand
#askU2 'The Joshua Tree' has to be my favorite U2 album. I love how the music and lyrics pair so well with the starkness of Anton Corbijn's photography for the album. My question: Did you guys and the producers have a set number of songs in mind for this album? Did it have to be 11? In my opinion, a lot of 'The Joshua Tree ' b-sides are just as good and could've made the cut. Not to mention 'Heartland' from 'Rattle and Hum'....that one is a definite favorite! Congratulations and best wishes, boys, on your upcoming tour! #U2TheJoshuaTree2017 #U2FanInKansas
Ivan Go
#AskU2: Is 'MLK' meant to be an intro to 'Where the Streets Have No Name'? The use of the organ and even the themes of both songs makes it seem like the 'The Joshua Tree' picks-up where 'The Unforgettable Fire' finished. It sure sounds cool on my iPod's playlist having those songs in that order.
Kristin Henden
#askU2 Hello! I'm from Ridgecrest, California in the beautiful Mojave desert. I think we all felt so connected to this album because of our desert landscape and abundance of Joshua trees. I had always heard THE tree on the album cover was actually out here in Inyo county. Do you remember where the photos were taken? Thank you for taking time to answer our questions, silly and serious. Can't wait to see you at the Rose Bowl!
Savitha Shastry Torres
#asku2: I have been a huge fan since the age of 15. For my 40th birthday this year, I was able to get red zone tickets in Dallas. To get in the mood, I have been listening to The Joshua Tree nonstop. My girls, Cecilia, age 8 and Sonia, age 5 have a few questions I could not answer: 1st Why can't you live with or without her? Seems like there is no other choice. 2nd, if she gave it all, why do you want more? What more can she give if she gave her all. This discussion even had me confused. Can you shed some light on the topic? Love always and see you in Dallas!
Dave Macias
U2, my question (along with my U2 tattoo) is, which song off of The Joshua Tree when performed live is as close to the studio version. Many of your songs have differed, been improved or have been rearranged since their original album recordings. But which one from The Joshua Tree has remained faithful to the original cut? Thank you kindly to Larry, Paul, Adam and Dave. ( Hector Flores Pj Aguilera )
Gordon Parkes
#askU2 A fan since day one, and as you can see, I was at BC Place in 87 and got licence plates "U2 LIVE" that year. It's nice to hear that you love our city so much and can't wait to see you perform again. My question to all of you is - Did you think that "The Joshua Tree" would become such a statement album ? As always U keep me waiting for something special to listen 2 . A fan forever. - Gord
Anita TerEsa Cappellina
#asku2 I've always been fascinated by the connection between The Unforgettable Fire album and TJT. Such different and equally wonderful works. How much has the former influenced the writing of The Joshua Tree?
Pebbles Robinson
From 1987, I recall a certain Justin Herman plaza incident in San Francisco that which for the true fans was a highlight of the Joshua Tree tour. Bono will there be a 30th anniversary to celebrate "Rock n Roll Stops the Traffic" in SF? #askU2
Madeleine Malik
I interviewed Bono for my U2 fanzine "Firework" on the back of the "Joshua Tree" tour in London in 1988. His immense kindness at the time didn't surprise me, but the very paternalistic attitude he showed towards me - and U2 fans generally - has stayed with me ever since. The fact that Bono remembered our interview and "Firework" when I ran into him one afternoon 20 years later in a quiet street in London speaks volumes about the very special and unique way in which this band feels about its fans... I have been to every U2 show in London since 1983 (and some cities further afield!) and will continue to do so until they (or I!) drop. And while I am unbelievably excited at the prospect of finally seeing one of my all-time favourites "Red Hill Mining Town" performed live this summer, some of the other songs on "The Joshua Tree" have been performed on every tour since the album's release, so how do those songs still feel fresh to the band after performing them so many times over the years, and what do the guys expect to bring to them this time round, especially given the "Songs of Innocence" tour which for me was probably their best and took me back 35 years to when I first fell in love with U2? Thanks guys (and I'd still be lovingly running "Firework" if I had a better work-life balance!)
Kristian Møller-Munar
What was the toughest decision in terms of the writing and/or recording of one of the songs? (perhaps something like, "that chorus has to go", or "we need to go back and record it again") Thank you very much guys! Huge influence. Fan for life. #askU2 #U2TheJoshuaTree2017.
Gareth Humphreys
It's a question for Bono, I mean I would like to ask Larry one but he's too miserable, Edge is way to smart for me and frankly Adam is just way too cool. So I thought of one for Bono. It's about the line 'Shine like stars...' apparently the term is a 'Coda' but to me and many, many fans it is just a magical moment that is made even more magical because, we the fans never know if it's going to be performed. So my question to you Bono, is what's your thought process for performing that now mythical line? Or is it much like George Best and just improvised when the moment is right. I kinda like that answer, it's not premeditated it just happens. #AskU2 #U2TheJoshuaTree2017
Karsten Sodemann Poulsen
#askU2 #U2TheJoshuaTree2017. In Denmark, two fans set out to interpret your lyrics and songs from eg The Joshua Tree album. The book focuses on the importance of faith in God. Is or was God/religion of great importance for all of you guys in U2, or is religion a source of debate between you?
David Mark Coulter
#askU2 I have been a U2 fan since my school days when a mate brought in a copy of War, never looked back. My Question, is it true that Streets was such a pain that Brian Eno made a decision to "accidentally" wipe the master tape to get rid of it? Ive heard a couple of versions of this story and would love to hear it from the horses mouth! Peace and love to the Larry Mullen Band ❤ #askU2TheJoshuaTree2017
Lynne Jones
I love Exit from the Joshua tree. It's a brilliant track yet you very rarely if ever play it. Why is this? Is it a track you don't particularly like? Also This is the second time since 1987 I haven't been able to get tickets for a U2 gig. Always saw you guys two or three times a tour. Didn't see the last tour. As a matter of principle I refuse to pay well over the odds. Disappointed much!
Alan Scott
Hi guys, can't wait to see you this summer. I was lucky enough to meet Bono in London in 2015, he signed a copy of Paradise Lost, Paradise Regained that he threw into the crowd in Barcelona earlier on the tour. I asked at the time if you would be playing 11 O'clock Tick Tock anytime and he said his daughter kept asking the same thing so they're gonna have to. So my question is along with the entirety of The Joshua Tree will you be playing 11 O'clock Tick Tock and some of the more deeper cuts like Two Hearts Beat As One, Wire and I Fall Down to name but a few? #AskU2 #TheJoshuaTree2017
Florian Morin
Hello Bono, Hello all guys of U2, i'm a great and very big fan of you, and also for all your fondation and your commitment...😌 I would since my 7th years old to meet you...and i thought my dream become true this summer at Stade de France but i have a disease : multiples sclerosis and so i can't come and stay many hours standing...:( So even if i'm very sad please can you play one of my favorite song : Angel of Harlem...please Thanks very much and please continue all your commitment and all that you do because your very important for all of us.... Florian
Ray Hannon
To this day I remember going into town on the 40 Bus I got off the Bus in Parnell Street and I went over to Moore Street and walked into Dolphin discs and purchased my copy of the Joshua Tree. I returned home to Finglas and put the album on my Hifidelity player and was just amazed at what came out it was an incredible sound.