America's Best U2 Tribute Act
Without U2 Live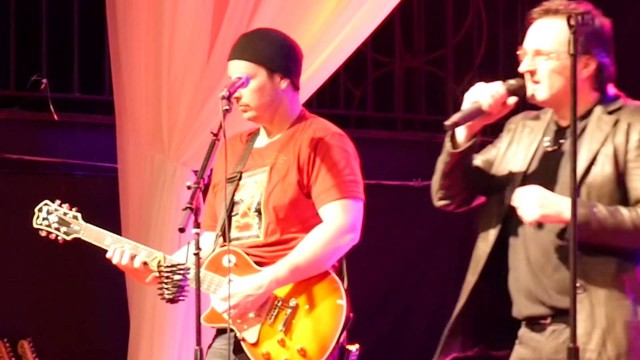 Reviews
Without U2 are the complete tribute experience. They bring pro players that can not only play the part but can deliver the look, sound, and feel of U2. When ever a client is looking for a great tribute experience, Without U2 is at the top of my list of bands to send.
Josh Niemiera, Double D Booking
A Without U2 show evokes the spirit, energy and musicianship of this legendary Irish rock band in an incredible fashion. The band's carefully selected song list covers all periods of U2's rock history and recreates in song, stage presence and delivery an authentic U2 concert experience.

Chris Oakley, Village of Carol Stream
I don't care if they have to wheel me in on a damn hospital gurney, I'll be at this show because The Atlantic Bar goes bonkers when Without U2 plays there!

Joe Pakovits, Huge U2 fan from Chicago
From the professional players to their onstage presence, WithoutU2 is as close to the original as you can get to the real thing. Great professional people to work with before during and after the show. A 2 hour show that had the crowd singing along with and dancing to every note. A sure bet to please any audience they are put in front of. What a great experience!
Michael Story, Manager, Ottawa RiverFest
About the Band
Based in Chicago, Without U2 recreates the sight and sound of the legendary Irish rock band U2 in an incredible fashion. We perform at all types of venues all over the USA, from small Irish pubs to outdoor fest stages, in full costume and using authentic gear.
Just like a real live U2 show, we perform extended singalong versions of all the hits such as One, With or Without You, Where the Streets Have No Name, Sunday Bloody Sunday, Mysterious Ways, New Year's Day, Desire, Pride (In the Name of Love), Beautiful Day, I Will Follow, Out of Control, and Bad….You name it and we play it! We will design a setlist that meets your needs.
Our members are professional musicians and lifelong U2 fans. We will not settle for less than complete authenticity. While wading through the audience with his wireless mike, "Jono" Clarke (guitar/vocals/harmonica) belts out soaring vocals that rival Bono himself. Cory Sanders (guitar/vocals) recreates the tech guitar wizardry of "The Edge", and Michael Koelling (bass) supplies the melodic low end of Adam Clayton. Jeff Kropp (drums/percussion) plays the role of Larry Mullen, Jr., with the the heart, soul and attention to detail that makes Without U2 the best rock band in the world.
Even Better Than the Real Thing (almost)!
Featuring:
Jono Clarke as Bono
Cory Sanders as The Edge
Michael Koelling as Adam Clayton
Jeff Kropp as Larry Mullen, Jr.
Latest News
Without U2 Chicago U2 Tribute Band
Saturday, January 27th, 2018 at 5:15pm
Without U2 Chicago U2 Tribute Band shared U2's post.
Monday, January 15th, 2018 at 1:47pm
Without U2 Chicago U2 Tribute Band
Monday, January 1st, 2018 at 7:48am